The Value of AV Consultancy
We offer AV consultancy as a professional service that helps clients specify and design audio visual systems tailored to their unique requirements and budget. The consultancy process translates these requirements into detailed system designs, drawings and specifications suitable for tendering or third-party quotes.
Far from merely providing schematic designs, our AV consulting offers comprehensive guides or blueprints that may include creative, non-mainstream solutions for the client's specific environment. The focus is not on selling products but on helping you achieve your desired outcomes through informed choices. This may include advising on multiple technological options and considerations like acoustic treatments for the space and integrating them with your existing equipment or infrastructure.
✔ Clarity in Design:
An AV consultancy exercise provides a clear indication of what design and equipment are needed to achieve the desired outcome. This facilitates better preparation for tendering processes.
✔ Technical Support:
With our specialised AV consultancy, you can expect on-hand technical support during the tendering process, resolving queries and complications.
✔ Ease of Documentation:
For internal departments, AV consultancy services simplify the creation of their tender documentation, making the process more streamlined.
✔ Ownership of Documents:
One of the outcomes of engaging in AV consultancy is that the client retains full ownership of any documents produced, offering added value.
✔ Cost Savings:
Engaging an AV consultant from ITSL Group provides insight into cost-saving measures across various solutions and equipment, leading to more economical decisions.
✔ Price Benchmarking:
Price benchmarks can be established through professional AV consultancy, offering a reliable foundation for fair and accurate pricing strategies.
✔ Site-Specific Design:
A bespoke design is often the result of a thorough on-site evaluation by an AV consultant, ensuring the final solution meets the specific needs and constraints of your environment.
✔ Local Legislation and Planning:
Our expertise in local UK legislation is a bonus, aiding in the navigation of planning permissions and other regulatory hurdles.
✔ Health and Safety Compliance:
When health and safety are a concern, our AV consultants can offer tailored advice on achieving compliance, such as eliminating dangling cables to meet site-specific regulations.
Some of our successful clients include: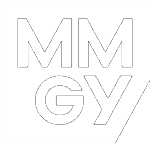 We are an integral part of MMGY Global's new office space build up. Our engineers designed the AV system blueprints before the building had any floors or even a ceiling. We provided consultancy for the elevations, cabling, AV system design and AV H&S compliance across all meeting spaces at their Union Street building.
Understanding the Cost of Our AV Consultancy Services
The cost structure for our AV consultancy is designed to offer clients flexibility and value for money. If the consultancy leads to a larger project, there's an option to apply this fee as a discount on the final project costs. While it may not be a full reimbursement, it is a substantial reduction.
For example, if you paid for six days of consultancy, the project might include three days of design at zero cost, providing you with better value for money. This approach is taken because much of the groundwork for the project is laid during the consultancy phase. Therefore, clients benefit from what could be considered a 'heavy discount' on the overall technical solution specification, reinforcing the consultancy's value proposition.
The Deliverables Of An AV Consultancy Project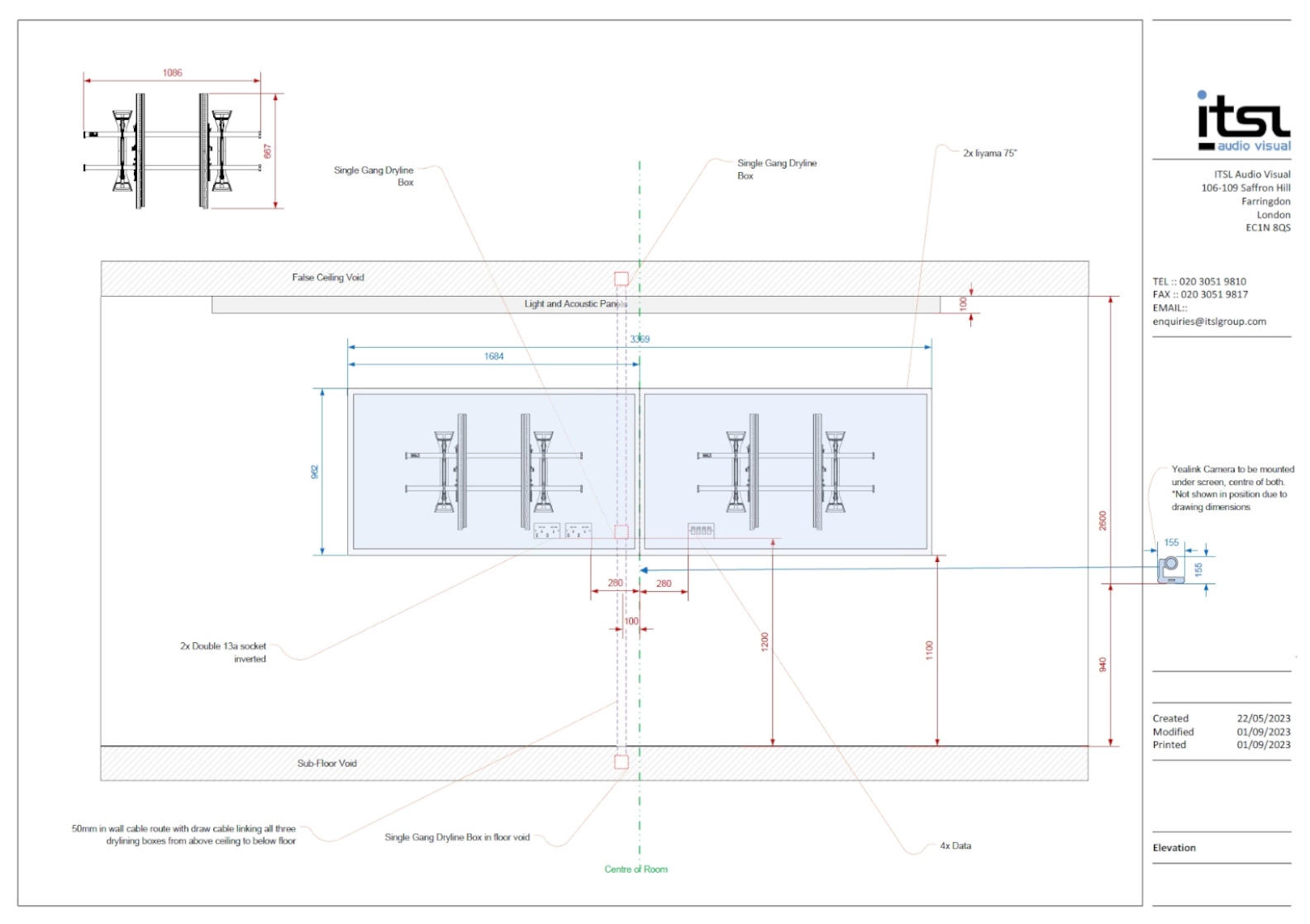 An elevation drawing provides a side view of a space, detailing the vertical placement and arrangement of AV equipment and fixtures. It serves as a visual guide for installers, helping them understand where to position components like screens and speakers in relation to the room's dimensions and features.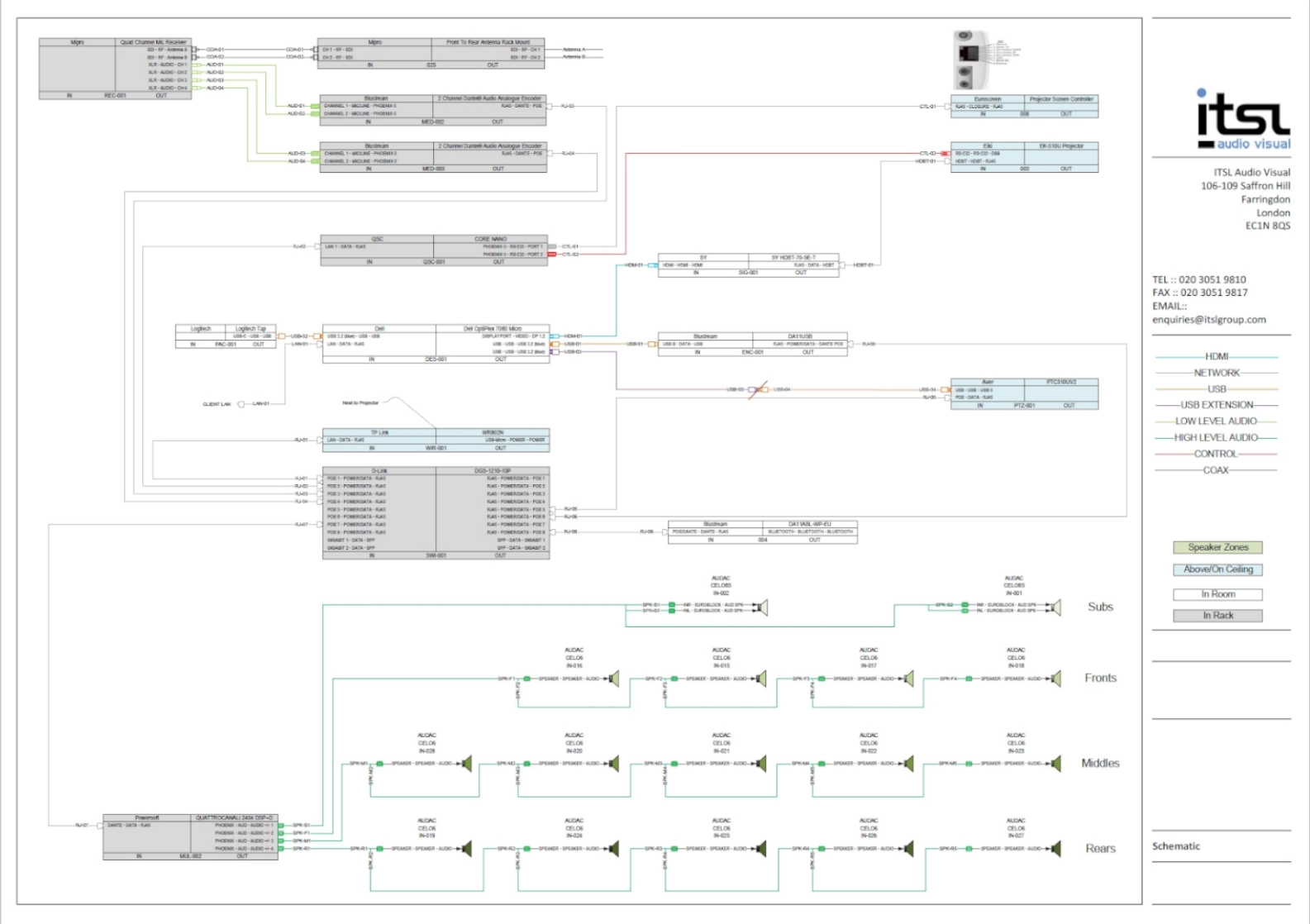 A schematic drawing offers a simplified representation of the electrical and signal connections between different AV components. It acts as a roadmap for technicians, outlining how devices like microphones, projectors and speakers are interconnected, streamlining the installation and troubleshooting process.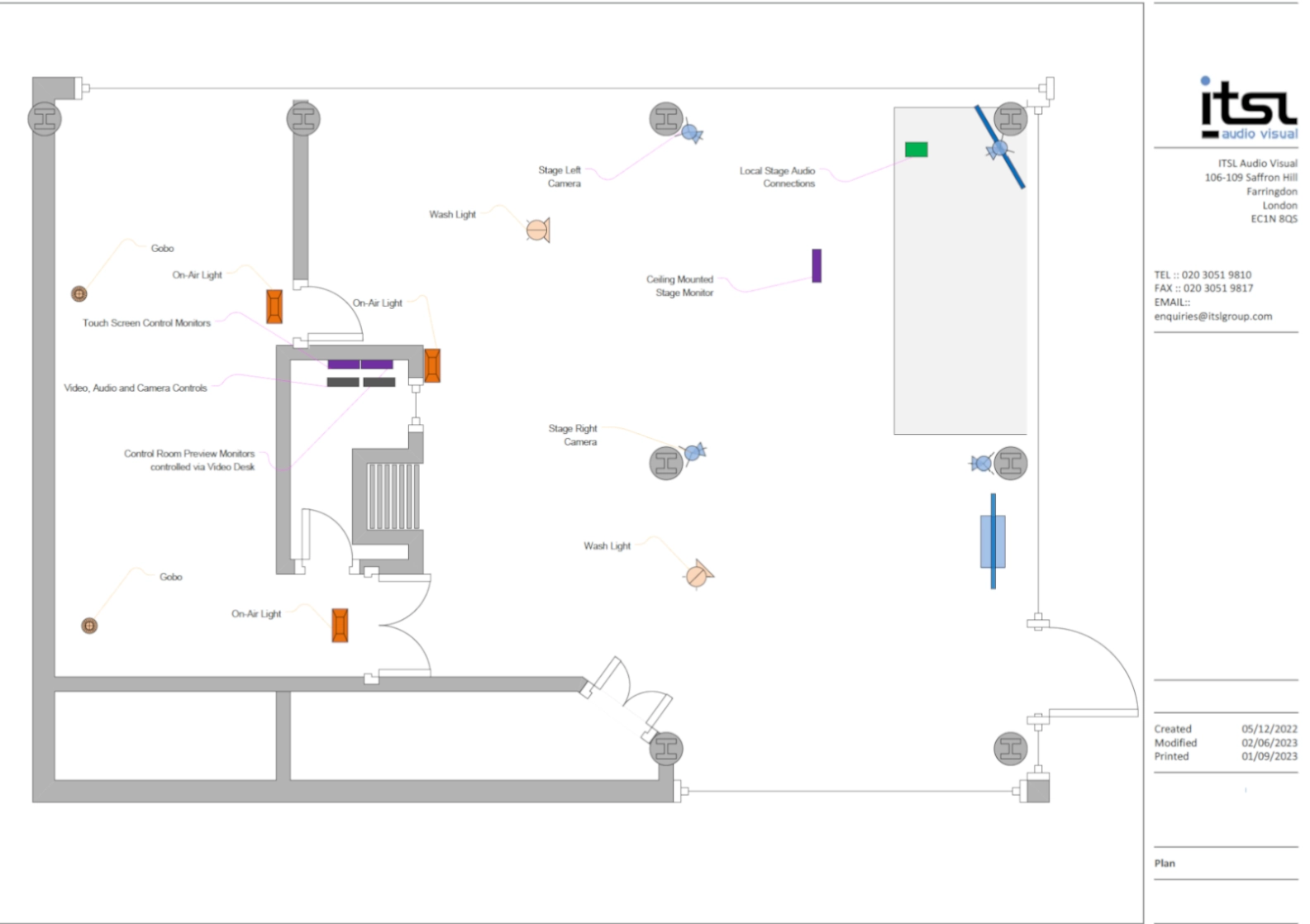 A plan drawing presents a top-down view of the layout, showcasing the horizontal placement of all AV elements within a given space. This illustration aids designers and installers in understanding the spatial relationships between items like screens, seating and sound systems, facilitating effective installation.
Contact us to discuss your AV requirements.
We are here to design the best fitting solution for you.