Why Choose NDI over SDI?
By choosing NDI® (Network Device Interface), you are adopting a technology that's designed for the future – flexible, efficient, scalable and ready to meet the demands of today's diverse broadcasting and live streaming needs. While SDI (Serial Digital Interface) has been a staple in traditional broadcasting for years, NDI provides several key advantages that make it a compelling choice for today's digital-centric environment:
✔ Greater Flexibility:
NDI can be transmitted over existing Ethernet networks, eliminating the need for specific SDI cables. This offers greater flexibility when configuring or expanding your setup.
✔ Enhanced Integration:
NDI's network-based approach allows for seamless integration with a wide array of software and hardware, creating a more cohesive and manageable system.
✔ Versatility in Applications:
From AV conferencing to BYOD (Bring Your Own Device) setups and screen scraping, NDI offers a range of innovative applications that can't be achieved using SDI.
✔ Cost Efficient:
By utilising existing Ethernet infrastructure and eliminating expensive SDI cables, NDI can result in substantial cost savings.
✔ Multi-channel Capability:
NDI supports the transmission of multiple video streams over a single cable, whereas SDI typically carries one signal per cable. This reduces physical cable clutter and eases the management of multiple streams.
✔ Scalability:
Unlike SDI, NDI isn't limited by cable distance restrictions, allowing for easy system growth and scalability.
Applications of NDI® Video Production Systems
The NDI® ecosystem in a nutshell
The NewTek TriCaster is a comprehensive video production solution, dubbed as "The most complete video production system on the planet." The TriCaster range offers an extensive variety of features designed to facilitate your team's production of professional, engaging live video. The system includes multi-channel audio mixing and real-time multi-view video monitoring. It integrates a teleprompter with Microsoft Word and it offers customisable, software-based control panels that are device-agnostic. The TriCaster utilises NDI connectivity for a less cluttered, wire-free setup without sacrificing performance.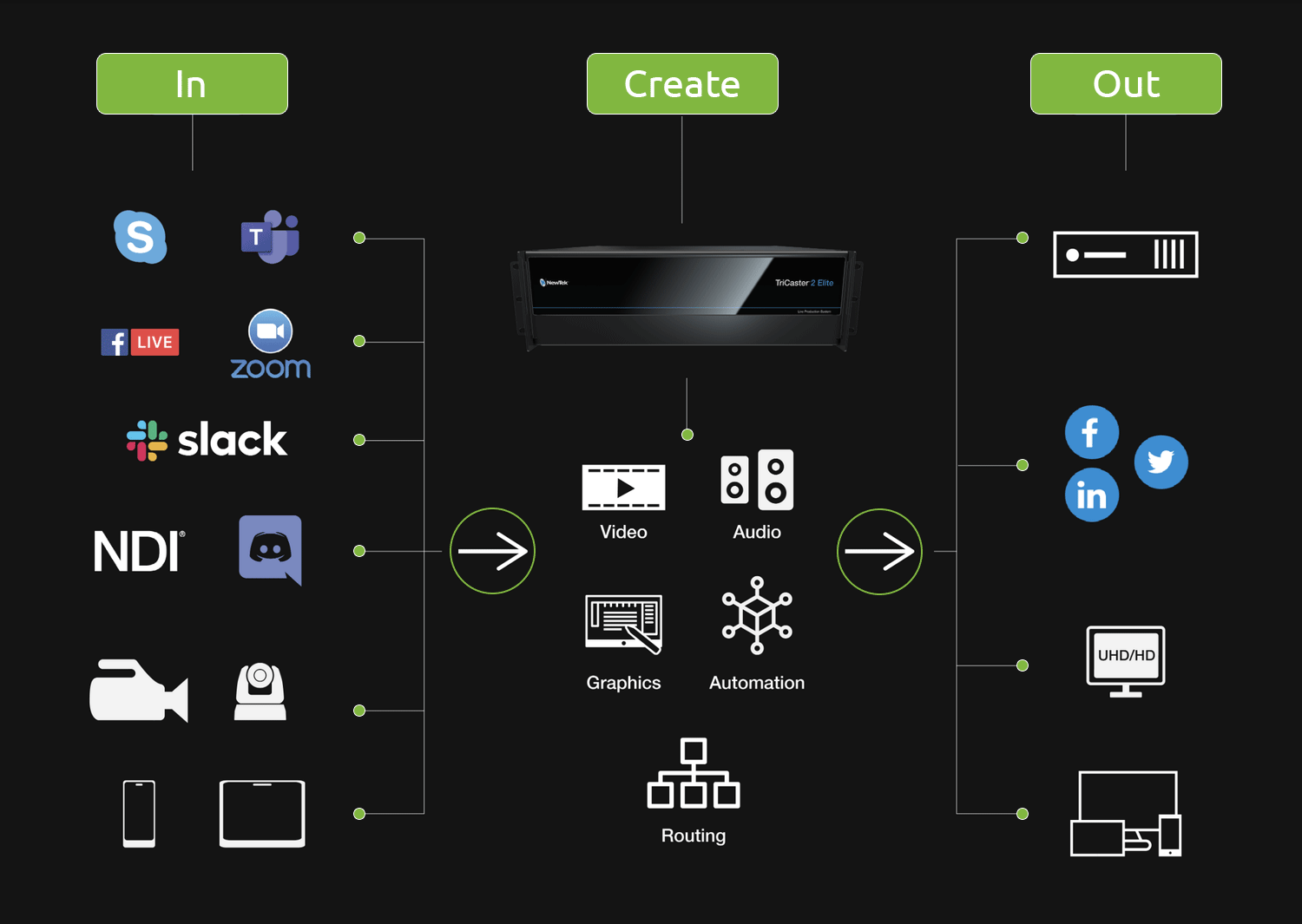 Our NDI® Services
As a NewTek partner, we provide a comprehensive suite of services to assist you in harnessing the power of NDI technology. Our services encompass a broad range of needs from the installation of cameras and production suites to the intricate setup of vision mixing systems and virtual sets. Whether you are aiming for a brand new NDI installation, a system migration or just a refresh, ITSL Group can guide you through every step, transforming your vision into a high-performing reality.
✔ Camera Installation:
Our team expertly installs NDI-compatible cameras, connecting them to your network for easy plug-and-play functionality. We ensure that each camera operates at optimal settings for your specific use case.
✔ Production Suite Set-Up:
We design and set up production suites, customising the configuration to fit your operational needs. Our services include network switch setup, signal normalisation and training on how to utilize your new system effectively.
✔ Vision Mixing Systems:
Enhance your live broadcasts with our vision mixing system setup. We integrate advanced systems into your workflow, allowing seamless mixing of multiple camera feeds, graphics, transitions and other live video sources.
✔ Virtual Sets:
Stay ahead of the curve with our virtual set services. We create photorealistic, CGI-enhanced virtual environments within your production system, making it possible to overlay subjects onto any backdrop. This technology also supports interactive elements, like virtual monitors, adding a level of sophistication to your broadcasts.
Our NDI® Services are as flexible as the technology itself.
Reach out to us for:
Some of our successful clients include:
Digital Catapult needed a production facility to operate TV quality hybrid events from their space in Euston, looking out over the iconic British Library. ITSL designed the facility and workflow to seamlessly mix remote participants, local speakers and audience members into a cohesive and professional live stream with equally impressive in room experiences.
From tape-based to file-based workflows
A change from SDI to IP-based (NDI) workflows is inevitable. This isn't just replacing one cable for another; it's a fundamental revolution in video production. The transition to NDI networks means becoming part of a vast, interconnected ecosystem, unlike SDI which remains parallel yet separate. Economically, the move to NDI is inevitable as it allows for quality video production at scale amidst shrinking budgets, especially evident in live sports where production demand has skyrocketed. NDI workflows can centrally locate the best production talent while receiving real-time camera feeds from any location. Lastly, NDI workflows democratise video production, allowing even individual producers access to a multitude of camera inputs globally, a development that not only boosts the quality of videos but also transforms production workflow, signaling the last paradigm shift we might witness for some time.
Contact us to discuss your broadcasting and live streaming requirements.
We are here to design and deliver the best NDI® solution for you.